Tiki Taane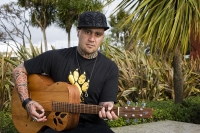 March 2011

It's beautiful, amazing! It sounds incredible too, could actually be the richest and warmest sounding guitar I've ever come across. You've done an incredible job, it really is a work of art. I feel very honoured to be given such a beautiful taonga. I will treasure this for ever!
I'm looking at starting the bulk of my acoustic album in June, so this guitar will be all over that record. It really does sound incredible. I really wasn't expecting just how amazing native woods sound. It has so much depth and warmth, like the wood is actually singing. It's awesome! Thanx so much. I'm really blown away.

Lotsa love & respect

Tiki




Check out Tiki's song "Freedom to Sing", with his Singing Wood guitar:

http://www.youtube.com/watch?v=cioNp9nqbqw&feature=related


Access to this link also on my links page.