Dave Westcot, Musician - Dunedin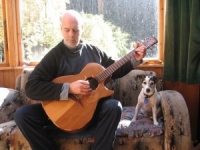 I have one of Ian's acoustic guitars - a jumbo cut-away - and have had many hours of great pleasure getting to know this fine instrument.
I play a range of styles and find it inspires and readily adapts to all - jazz, funk, raga, blues, bluegrass - it's always right on the money with a clear, full and resonant tone.
Singing Wood is indeed a very apt description of the quality and nature of Ian's instruments as they seem to possess a vitality and life force all of their own, which of itself provides inspiration to play and create.