Phil Corfield - Dunedin based Musician/Songwriter/Writer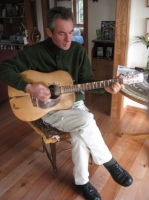 I bought my first Singing Wood guitar from Ian around 2001. I'd owned several factory made guitars, in the $350 to $1,000 range, in the previous 20 years, and all were serviceable, and one or two were pretty good, but I'd been hungering for a hand-made guitar, or a top of the line factory guitar (which are usually guitars with a large hand-made component) for many years.
I noticed straight away that my Singing Wood was loud and it was a 'chimer. It rung like a bell, and all over the neck; open chords, barre chords, minors, majors, diminisheds, major 7ths, everything.
It's a heavy guitar at 5lb 10oz (2.5kg). The neck is laminated Kauri/Jarrah, the back and sides are jarrah and the top's Kahikatea (New Zealand White Pine). I'd never seen any of these woods in a guitar before.
Ian's adventurous and inventive, and he builds his guitars with great respect and love.
I've busked with mine for 5 years, currently 1-2 hours a day, 6 days a week, weather permitting. I've become used to people coming up to me and asking, What's that guitar?, Where did you get it from?, How much did it cost?. Socially, I love it. I tell people about the woods, go around the guitar pointing out all the different parts. It's even got Oak in it, and Iron Bark. It's amazing.
All Ian's guitars are different and they're all works of art. Mine took about 6 weeks to build. Ian says he can hear the ancestors singing in the wood whilst he is making them.
I play so often because I enjoy it so much. It's a meditation to me. I'm always hearing new sounds. There are endless overtones, and the sustain and decay are a delight.
The top is relatively heavily braced and this combined with very hard and dense back and sides, produces a tone that is more trebly and ringing than a more conventional guitar.
Although used acoustically, the guitar is totally viable, for my style of playing, I tend to think that amplified, this guitar may have properties of both acoustic and solid body electrics.
I believe that guitars need to be matched to people, to their playing style and their personality.
I've been primarily a flat-picker. I use an 0.73mm 'Dunlop Nylon'. Over a few years I gradually set up the nut and the bridge to suit my feel and style.
I have not yet explored too much its amplified potential. I've recently gone to a little Yamaha VA-10 battery amp for the street. I run both my voice and guitar into the one channel through a 2 into 1 jack plug. The mics a lapel type that I clip to the top of my waistcoat. My voice needs the extra volume of the amp, more than the guitar does. The sound is now that little louder and clearer, allowing me to be heard consciously by people passing by.
In concert, with my band 'The Jokers', I use an Ibanez TA 35 Troubadour acoustic amp. The pickup is a Fishman AG125 fitted under the bridge and I use an old Boss half-rack parametric eq/pre-amp. I don't use the effect (eq) on the guitar as it compresses the sound too much, for my style/taste. I just use the pre-amp. There are probably better pre-amps I could use, but for now the Boss is what I can afford.
Last year (2006),I made my 5th album. I used the 'Singing Wood' on 12 of the 13 songs. I borrowed a Fishman 'Rare Earth' sound hole pick-up for this job. The 'Rare Earth' has a magnetic pick-up combined with a small microphone. There's a little mixing wheel on the pick up and I lean heavily to the mic side. This setting gives a very natural acoustic sound and has a bit of a 'live' feel with a full expansive ambiance. I went straight into the sound desk through a D.I. I also occasionally used an external mic as well, to give extra ambiance, and that sound you get through an air gap off the body.
The Engineer said the guitar played in tune through all the keys and fingerings, and there were no rogue tones that had to be fixed!
Like I've said, I've had to get to know the guitar to get the best out of it. Acoustic guitars are all different. They're like people, all individuals, although I think there is a 'Singing Wood' sound, best perhaps characterized by clear powerful highs a certain ring, combined with long sustain and even decay.
I couldn't go back to most factory guitars now. I've only found 2 or 3 in the last 26 years where I felt Oh, I've got to have this guitar! That's nothing against factory guitars really. Most do their job, they're affordable, they're useful and millions of people around the world are served by them. It's just that once I played that certain hand-made guitar that I'd been searching for, for years, there was new joy in my life. I was inspired to a new level, my playing improved, everything improved.
The 'Singing Woods' are beautiful guitars and they've become a key tool in my creativity. That doesn't really explain it. They're an essential element in my state of being. Again I'm not sure how to explain it. Once I went inside myself I found most of what I was looking for. Musicians and songwriters use music, and writing, and playing a lot to do this. Creativity is infinite and we are all creative.