Joshua Rust - Australia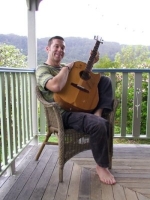 The guitar I have looks and sounds as sweet as the day I fell for it!!!!! It has endured the humidity flux of northern New South Wales (Australia) rain forest country without complaint.... to the surprise of some local guitar makers too. I am still not gigging with it as yet, but it finds its way to many jam sessions and the like, and I gotta say it is a real show stopper. Nobody can wait to get their hands on it when it comes out. I run D'addario 12-53 gauge phosphor bronze strings on it, and the only changes I have made were to lower the action at the saddle (and shape the saddle a little more closely to the curvature of the neck) and to replace the plastic bridge pins with these lovely old dot-inlaid turned ebony ones I came across. It has incredible clarity in the highs and mids and a kind of a full but crisp bass that lends well to my finger style ragtime. It has heaps of volume so I love playing it with a flat pick as well... especially right up the neck.
For me the thick, curvy neck couldn't be more comfy and the jumbo frets are a real bonus. There is so much detail in your guitars - all the timber pieces in the binding, the inlaid leaves and diamonds. I love the two-timbered soundboard concept and the arched back, and particularly the inlaid pick guard! I really don't have a bad thing to say about this guitar Ian. I have just bought a fender acoustic amp for use in my bands but also with a view to doing some solo or duo stuff, and with that I intend to finally put a pickup in the Singing Wood and take it to gigs.
One of the local guitar makers who was impressed by the workmanship was skeptical of the steel bar in the neck and all the joinery, suggesting that the humidity swings of our region would destroy it in no time... but there has been no movement, cracking or shrinkage. I keep it in a hard case, but it lives in an old, old timber farm house with no air conditioning and little insulation... so the whole house breathes with the weather. My Maton has popped a few braces over the years and at one point the sound board over-dried and went concave... I had to buy a special humidifying sponge that fits in the sound hole to rectify that ... which worked a treat by the way. But the Singing Wood is fine.