Leo LaDell - The Singing Wood Electric Guitar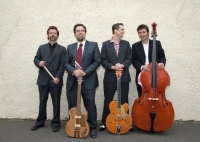 My Singing Wood Electric is a beautiful combination of native New Zealand and imported timbers.

The single-cutaway body features a solid centre block and hollow wings. This gives the instrument a very live, singing tone, and it even sounds great unplugged. The solid neck gives heaps of sustain - much more than I've experienced in other semi-hollow guitars.

The body and neck are wonderfully balanced - the guitar feels and plays great. I am always reluctant to put it down. I am delighted with the playability and sound of the guitar, but I am also amazed by the craftsmanship that characterizes every detail. The feel and striking looks of it are a joy to me.

Ian has created both an instrument and a work of art, and it is my number one guitar.



www.leoladell.com