Feedback from Singing Wood owners
Comments from owners of some of my instruments.
Aroha Ngatai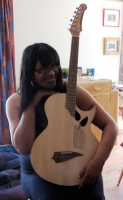 Kia ora Ian

The guitar is outstanding, I just love her "Hinewaiata" (Song Maiden) is what I've named her :)
I am the envy of everyone, I took her to the Rock Shop to get some Strap locks for my strap, I had the workers coming from the back of the shop to check her out, they were dribbling over your Master Piece!! All those I've introduced her to couldn't wait to play her, she's sensitive to the touch, she makes guitar playing like breathing, I swear I've improved in my playing :)

Thanks again
Nga mihi mahana

Aroha


Tiki Taane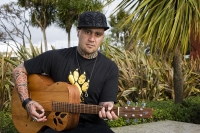 March 2011

It's beautiful, amazing! It sounds incredible too, could actually be the richest and warmest sounding guitar I've ever come across. You've done an incredible job, it really is a work of art. I feel very honoured to be given such a beautiful taonga. I will treasure this for ever!
I'm looking at starting the bulk of my acoustic album in June, so this guitar will be all over that record. It really does sound incredible. I really wasn't expecting just how amazing native woods sound. It has so much depth and warmth, like the wood is actually singing. It's awesome! Thanx so much. I'm really blown away.

Lotsa love & respect

Tiki




Check out Tiki's song "Freedom to Sing", with his Singing Wood guitar:

http://www.youtube.com/watch?v=cioNp9nqbqw&feature=related


Access to this link also on my links page.
Paul Ubana Jones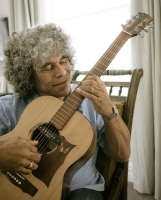 June 2011

My Singing Wood Guitar made by Ian Davie is an example of masterful craftsmanship. It has all the depth of tone and timbre essential for a serious pro'


Paul Ubana Jones.
Guitar Virtuoso and International Musician. 2011.


Anneka Thwaites with her 100% NZ native wood guitar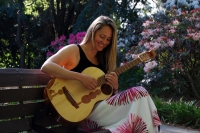 August 2011

I love my Singing Wood guitar! Mine is a funky wee classic steel, with a silhouette of a little man sitting cross-legged inlaid on the top. The tone is just beautiful. For a small guitar, it has a very mellow and surprisingly full tone. As soon as I saw and played it, I just fell in love with it. It is just so spectacularly different from everything else!
As a cabinetmaker and woodcarver, I really appreciate the detail and individuality Ian puts into his guitars, such as the inlaid leaves, unique designs, player's hole and innovative bracing systems, not to mention the artistic flare and use of NZ timbers!
As soon as the guitar comes out of the case it has people's attention - they all want to know what it is and where it came from! I am totally blown away and will treasure my new baby always!
Anneka Thwaites
www.annekamusic.com
You can see Anneka playing her Singing Wood guitar on TV1s Goodmorning show at
http://www.youtube.com/watch?v=w8uVo-EqcJo&feature=related
Don McGlashan with his custom made 100% NZ Native Wood guitar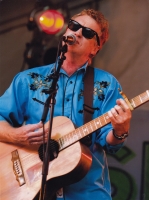 It's superb! I can't stop playing it. The sound is mellow, with amazing sustain. The workmanship is extraordinary. I love the Rewa rewa and Mapou details and the imagery you've chosen throughout is absolutely perfect. Subtle, whimsical, and beautiful.

I've only had it a few months and it's become my main instrument for writing, recording and performing - replacing the 1930's Harmony parlour guitar and the 1970 Ibanez that have been my mainstays throughout my career. I've always loved those two instruments (still do), and I never thought I could become attached to another acoustic. The fact I have shows just how good the Davie is.

Don McGlashan

www.donmcglashan.com

Check out Don playing his Singing Wood guitar at:

http://www.youtube.com/watch?v=wOubYiZbHjE


Alexander Schriefer - Germany - with his custom 7 string guitar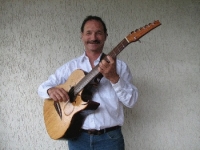 Hello Ian! As you can see, I am totally happy about this wonderful instrument, because it sounds so beautiful and rich! It is MY guitar, this guitar is ME... You have made it exactly the way as I was wishing it, and all the detailed artwork looks so beautiful! It feels so good in my hands, and she is responding immediately to my intensions and ideas, it is so inspiring! I am composing a lot with her, and at the moment I use it when playing during my guitar - lessons with my students to play her warm, and make her resonate while maturing. My students are very impressed by this beautiful looking and sounding instrument! I only can recommend other people to visit you in Kiwiland, because it is so nice sitting in your house and testing your guitars while having some cups of tea, and then every visitor should ask you definitely for getting a guitar built from you! You give a lot to this world, you make it more gentle and nice and harmonic... Thanks a lot again!

Alexander

Alexander Schriefer
A. S. Music Publications
Anton – Happach – Str. 8
D – 86932 Lengenfeld
GERMANY

Computer & Music – Guitar – Composition – Arrangement – Recording – Preproduction Workshops


www.a-s-m-p.de
Leo LaDell - The Singing Wood Electric Guitar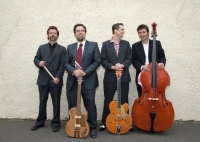 My Singing Wood Electric is a beautiful combination of native New Zealand and imported timbers.

The single-cutaway body features a solid centre block and hollow wings. This gives the instrument a very live, singing tone, and it even sounds great unplugged. The solid neck gives heaps of sustain - much more than I've experienced in other semi-hollow guitars.

The body and neck are wonderfully balanced - the guitar feels and plays great. I am always reluctant to put it down. I am delighted with the playability and sound of the guitar, but I am also amazed by the craftsmanship that characterizes every detail. The feel and striking looks of it are a joy to me.

Ian has created both an instrument and a work of art, and it is my number one guitar.



www.leoladell.com
Hannah Howes, Singer/Songwriter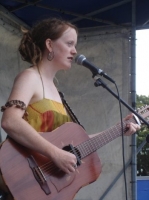 "I have two of Ian's Guitars and soon will have three. I also have a Singing Wood dulcimer. Built by not only a master craftsman but also a very spiritual man, the first guitar I received from Ian was responsible for the creation of the title track for my EP, Patchwork Quilt. I can honestly say it embodied some real magic... I took it home and began playing in an open tuning and simultaneously wrote the verses and chorus for the song. I first fell in love with the feel and tone of the instrument, with its deep, resonant bass nicely accompanying my quiet vocals. I also love the aesthetic and 'sacred' quality of these highly prized handmade guitars - you can run your hand over the soundboard and feel the grain of the wood like valleys and ridges. My second, smaller guitar is a 12 fret guitar based on a Martin classical. It is light and easy to play and of course beautiful to look at. The third will be from the Koru Series, made from recycled New Zealand native woods. It is a nylon string and again I have fallen in love with the warm tone, playability and resonance of this one and cannot wait to have it in my possession! I feel so lucky to even know about these guitars. They are individually created for their player to a standard of sound quality that equals any of the best or oldest guitars I've heard. From the perspective of a songwriter, sculptor, and craftsperson, Singing Wood is all about class. From finely tuned fret-board comfort, intonation, tone and durability, each guitar patently embodies a labour of love."
Dave Westcot, Musician - Dunedin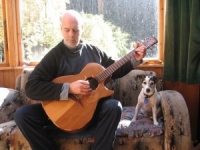 I have one of Ian's acoustic guitars - a jumbo cut-away - and have had many hours of great pleasure getting to know this fine instrument.
I play a range of styles and find it inspires and readily adapts to all - jazz, funk, raga, blues, bluegrass - it's always right on the money with a clear, full and resonant tone.
Singing Wood is indeed a very apt description of the quality and nature of Ian's instruments as they seem to possess a vitality and life force all of their own, which of itself provides inspiration to play and create.

Anton Oliver - New Zealand All Black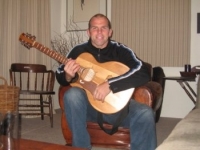 I love Ian's guitar as I see it as both a piece of art - an object of beauty and meaning - and also a fine musical instrument to be strummed, picked, slapped and enjoyed.
Its sound, to my crude ear, continues to develop more depth and range and I'm looking forward to many hours of my life gladly spent with it on my lap.
Joshua Rust - Australia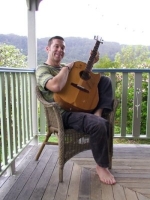 The guitar I have looks and sounds as sweet as the day I fell for it!!!!! It has endured the humidity flux of northern New South Wales (Australia) rain forest country without complaint.... to the surprise of some local guitar makers too. I am still not gigging with it as yet, but it finds its way to many jam sessions and the like, and I gotta say it is a real show stopper. Nobody can wait to get their hands on it when it comes out. I run D'addario 12-53 gauge phosphor bronze strings on it, and the only changes I have made were to lower the action at the saddle (and shape the saddle a little more closely to the curvature of the neck) and to replace the plastic bridge pins with these lovely old dot-inlaid turned ebony ones I came across. It has incredible clarity in the highs and mids and a kind of a full but crisp bass that lends well to my finger style ragtime. It has heaps of volume so I love playing it with a flat pick as well... especially right up the neck.
For me the thick, curvy neck couldn't be more comfy and the jumbo frets are a real bonus. There is so much detail in your guitars - all the timber pieces in the binding, the inlaid leaves and diamonds. I love the two-timbered soundboard concept and the arched back, and particularly the inlaid pick guard! I really don't have a bad thing to say about this guitar Ian. I have just bought a fender acoustic amp for use in my bands but also with a view to doing some solo or duo stuff, and with that I intend to finally put a pickup in the Singing Wood and take it to gigs.
One of the local guitar makers who was impressed by the workmanship was skeptical of the steel bar in the neck and all the joinery, suggesting that the humidity swings of our region would destroy it in no time... but there has been no movement, cracking or shrinkage. I keep it in a hard case, but it lives in an old, old timber farm house with no air conditioning and little insulation... so the whole house breathes with the weather. My Maton has popped a few braces over the years and at one point the sound board over-dried and went concave... I had to buy a special humidifying sponge that fits in the sound hole to rectify that ... which worked a treat by the way. But the Singing Wood is fine.
Phil Corfield - Dunedin based Musician/Songwriter/Writer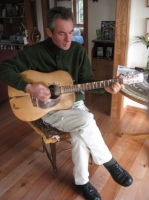 I bought my first Singing Wood guitar from Ian around 2001. I'd owned several factory made guitars, in the $350 to $1,000 range, in the previous 20 years, and all were serviceable, and one or two were pretty good, but I'd been hungering for a hand-made guitar, or a top of the line factory guitar (which are usually guitars with a large hand-made component) for many years.
I noticed straight away that my Singing Wood was loud and it was a 'chimer. It rung like a bell, and all over the neck; open chords, barre chords, minors, majors, diminisheds, major 7ths, everything.
It's a heavy guitar at 5lb 10oz (2.5kg). The neck is laminated Kauri/Jarrah, the back and sides are jarrah and the top's Kahikatea (New Zealand White Pine). I'd never seen any of these woods in a guitar before.
Ian's adventurous and inventive, and he builds his guitars with great respect and love.
I've busked with mine for 5 years, currently 1-2 hours a day, 6 days a week, weather permitting. I've become used to people coming up to me and asking, What's that guitar?, Where did you get it from?, How much did it cost?. Socially, I love it. I tell people about the woods, go around the guitar pointing out all the different parts. It's even got Oak in it, and Iron Bark. It's amazing.
All Ian's guitars are different and they're all works of art. Mine took about 6 weeks to build. Ian says he can hear the ancestors singing in the wood whilst he is making them.
I play so often because I enjoy it so much. It's a meditation to me. I'm always hearing new sounds. There are endless overtones, and the sustain and decay are a delight.
The top is relatively heavily braced and this combined with very hard and dense back and sides, produces a tone that is more trebly and ringing than a more conventional guitar.
Although used acoustically, the guitar is totally viable, for my style of playing, I tend to think that amplified, this guitar may have properties of both acoustic and solid body electrics.
I believe that guitars need to be matched to people, to their playing style and their personality.
I've been primarily a flat-picker. I use an 0.73mm 'Dunlop Nylon'. Over a few years I gradually set up the nut and the bridge to suit my feel and style.
I have not yet explored too much its amplified potential. I've recently gone to a little Yamaha VA-10 battery amp for the street. I run both my voice and guitar into the one channel through a 2 into 1 jack plug. The mics a lapel type that I clip to the top of my waistcoat. My voice needs the extra volume of the amp, more than the guitar does. The sound is now that little louder and clearer, allowing me to be heard consciously by people passing by.
In concert, with my band 'The Jokers', I use an Ibanez TA 35 Troubadour acoustic amp. The pickup is a Fishman AG125 fitted under the bridge and I use an old Boss half-rack parametric eq/pre-amp. I don't use the effect (eq) on the guitar as it compresses the sound too much, for my style/taste. I just use the pre-amp. There are probably better pre-amps I could use, but for now the Boss is what I can afford.
Last year (2006),I made my 5th album. I used the 'Singing Wood' on 12 of the 13 songs. I borrowed a Fishman 'Rare Earth' sound hole pick-up for this job. The 'Rare Earth' has a magnetic pick-up combined with a small microphone. There's a little mixing wheel on the pick up and I lean heavily to the mic side. This setting gives a very natural acoustic sound and has a bit of a 'live' feel with a full expansive ambiance. I went straight into the sound desk through a D.I. I also occasionally used an external mic as well, to give extra ambiance, and that sound you get through an air gap off the body.
The Engineer said the guitar played in tune through all the keys and fingerings, and there were no rogue tones that had to be fixed!
Like I've said, I've had to get to know the guitar to get the best out of it. Acoustic guitars are all different. They're like people, all individuals, although I think there is a 'Singing Wood' sound, best perhaps characterized by clear powerful highs a certain ring, combined with long sustain and even decay.
I couldn't go back to most factory guitars now. I've only found 2 or 3 in the last 26 years where I felt Oh, I've got to have this guitar! That's nothing against factory guitars really. Most do their job, they're affordable, they're useful and millions of people around the world are served by them. It's just that once I played that certain hand-made guitar that I'd been searching for, for years, there was new joy in my life. I was inspired to a new level, my playing improved, everything improved.
The 'Singing Woods' are beautiful guitars and they've become a key tool in my creativity. That doesn't really explain it. They're an essential element in my state of being. Again I'm not sure how to explain it. Once I went inside myself I found most of what I was looking for. Musicians and songwriters use music, and writing, and playing a lot to do this. Creativity is infinite and we are all creative.